How to protect your skin in the summer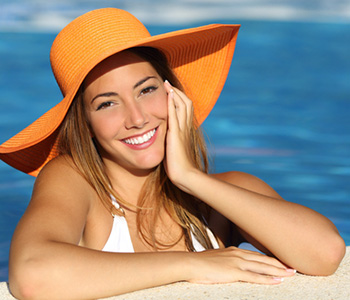 Although we love the warm summer months, UVA and UVB which make up the suns rays are dangerous. These rays penetrate our skin and damage the cells that make up our skin, the keratinocytes. When enough damage is done by these harsh rays, skin cancer is the result. This damage also makes our skin appear dry, damaged, discolored and wrinkled with lines and spots.
Therefore, we need to pay special attention to protecting our skin in summer. An important step to protect our skin is the application of a broad spectrum SPF 30+ sunscreen which can block UVA and UVB rays. It should be applied daily and reapplied every 2 hours, all over the sun exposed skin, even if it looks cloudy. A water-proof sun block is an absolute must if planning to go swimming, diving or take part in any water sports.
Some more summer skin protection tips:
Avoid the sun between 10:00 am and 2:00 pm. When outside, wear sunglasses with UVA and UVB protection, a wide brimmed hat, protective clothing and carry an umbrella.
Cleanse and moisturize the skin every day.
Make healthy lifestyle choices: Drink plenty of water, eat fresh fruit and vegetables, quit smoking and get sufficient sleep on your back.
Be aware of how certain medications that you are on may interact with sunlight.
Inspect your skin regularly for any signs of skin damage and visit a dermatologist for evaluations.
Don't use tanning beds.